versión en Español
Tamarindo Beach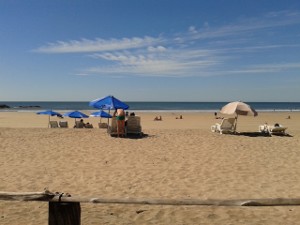 Description:

Tamarindo Beach is one of the best known beaches of Guanacaste and has had a lot of touristic development in recent years. Thus, the small town of Tamarindo beach has become a big tourist center with many hotels and services. The beach itself is a pale sandy beach limited by a rocky point at one end and a estuary on the other. On the other side of the estuary, although it may seem that it is the same beach, in reality that part receives another name: Playa Grande beach. In the center of Playa Tamarindo within the sea there is an important rock formation that creates two areas with a slightly different behavior. On the north side the sea has a higher swell, while on the south side it tends to be a little quieter. The sea water is warm and pleasant temperature. On the shore of the beach there is vegetation, although one could not say that there are abundant shades to shelter from the strong sun of Guanacaste.
Activities:





Surfing is one of the main activities in Tamarindo Beach. Although there are many points to practice it, one of the most popular is in the region between the estuary and the rock formation at the center of the beach. In the town there are many shops where you can request surf lessons or rent a board. Similarly, many visitors to Playa Tamarindo enjoy this beach walking, sunbathing and bathing in the sea (with certain precautions). On the south side of the rock formation there are also many boats, so it is also possible to take boat trips, fishing and other types of motorized sports here.
Province: Guanacaste
Access: Guanacaste - Access to Playa Tamarindo is very simple. There is a paved road that goes directly to this beach. The only detail you should take into account is that if you come by car in high season you may have to pay for parking. It is worth mentioning that Playa Tamarindo also has an airport near where many local flights arrive and you can also go by public bus easily.
Location on map:

Sponsors:

Beaches in Costa Rica - member of the network: Directorios en Costa Rica
Home - Provinces - About us - Resources