versión en Español
Punta Uva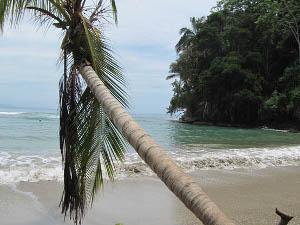 Description:

Punta Uva is actually, as its name says, a point that protrudes from the coast. However, the beaches on both sides of this point are also known by that name. Both share many characteristics, being the main difference that the beach on the south side of the tip is a little more populated, because there is the town of Punta Uva. These beaches have great beauty and both have clear golden colored sand. Like most of the beaches in this area, there is a small distance between the sea and a very abundant vegetation and little change between high tide and low tide. The sea is most of the time calm and with blue and turquoise colors. On the north side of the point, the sea next to the point takes on a greener color due to the nearby vegetation.
Activities:




Punta Uva is an ideal place to spend the day and enjoy the sea. You can walk, swim and enjoy snorkeling. The atmosphere is very calm and natural. A very popular activity is walking the trails of the tip. The trails, which are free to walk, but no demarcation is available, communicate the beaches on both sides and even to the far end of the point, where there is a very good view. There is also the possibility to rent a kayak and take a tour on it. At some times of the year, the sea can get rougher and on some days it is possible to practice surfing far side of the point.
Province: Limón
Access: Limón - Access to Punta Uva is very simple and can be easily reached in a vehicle. From the main street there are several entrances that take you to different parts of the beaches. In several of these entrances there is space to park the vehicle.
Location on map:

Sponsors:

Beaches in Costa Rica - member of the network: Directorios en Costa Rica
Home - Provinces - About us - Resources