versión en Español
Playa Blanca (Punta Leona) Beach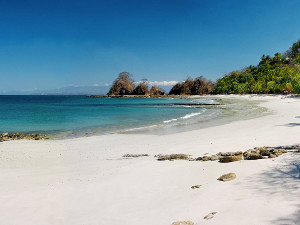 Description:

Playa Blanca is well known for its great beauty and white sand. In fact, this beach has been used many times to film national and international television commercials, and even for movies. The beach is small and easy to walk from end to end. Throughout the entire beach there is vegetation that offers plenty of shade.
Activities:





This beach is an excellent place to spend a day. Although it is small, it is common to see people walking or jogging along it. There are also several places where it is very safe to bathe in the sea (mainly at the southern end of the beach). The water is normally warm and crystal clear. In the center of the beach there is a reef that is a good point for snorkeling and this same reef allows surfing. The reef creates a wave at low tide that many beginner and intermediate surfers ride.
Province: Puntarenas
Access: Puntarenas - Access to Playa Blanca is very limited. There is only one public street that ends at the adjoining beach, called Mantas Beach. From there it is necessary to walk along that beach and cross the point at the southern end, which is very complicated at high tide. However, there is another much easier way to access this beach, but it is not free. In the area there is a tourist development called Club Punta Leona. If you are a member of this club or if you stay at their resort, then you can use a road in very good conditions that goes directly to Playa Blanca, and you will even have access to other services such as parking in the place and bathrooms. NOTE: Ironically the hotel called Hotel Arenas located in the same complex does not belong to the club and therefore when you stay there you do not have the aforementioned access.
Location on map:

Sponsors:

Beaches in Costa Rica - member of the network: Directorios en Costa Rica
Home - Provinces - About us - Resources