versión en Español
Jaco Beach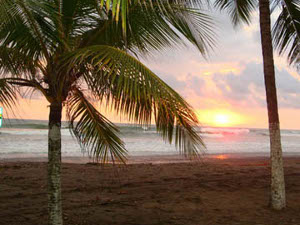 Description:

Jaco Beach is a dark brown sand beach well known for its excellent surfing characteristics. This sport has been responsible for increasing the popularity of this beach, however it has always been very visited by Costa Ricans, mainly because it is relatively close to the capital. Due to its popularity, the beach presents a lot of real estate development, so its landscape is dominated by large constructions and not so much by nature.
Activities:



As mentioned in the previous section, surfing is the main activity on this beach. The waves are great throughout the beach, so there is no particular location to practice it. However, at the ends of the beach the waves and currents are usually smaller, so some beginner and intermediate level surfers prefer these sections. On the beach you can also walk or jog, although in some sections there may be many stones. In high season the beach can become quite populated, so possibly if you want to spend the day there you will have to share some shade with other people.
Province: Puntarenas
Access: Puntarenas - Access to the beach is very simple and no special vehicle is required. There are several paved roads that reach the beach and even in many of those places there is space to easily park the vehicle.
Location on map:

Sponsors:

Beaches in Costa Rica - member of the network: Directorios en Costa Rica
Home - Provinces - About us - Resources