versión en Español
Conchal Beach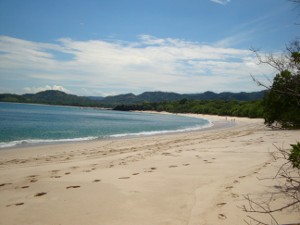 Description:

Conchal Beach is a well-known beach in Guanacaste for its great scenic beauty and white sand. Its name comes possibly from the fact that in some sections of the beach, especially in the far north, the sand becomes thicker and it is visibly formed by small fragments of shells. Another advantage of this beach is that the sea there is very calm and practically without any waves. The beach also has enough vegetation so there is enough shade to enjoy a day at the beach.
Activities:





As mentioned in the previous section, the sea on this beach is very calm, so it is possible to bathe and swim in it. Another factor that contributes to this activity is that the temperature of the water, as in most beaches in Costa Rica, is pleasant. Snorkeling is another activity that can be easily practiced. At the southern end there are rock formations that are good points for this. On the other hand, due to the presence of a large resort, there is a lot of people on this beach who offer motorized activities such as: jet ski rental, boat rides, among others. Other common activities on this beach are of course sunbathing or walking along its entire length
Province: Guanacaste
Access: Guanacaste - Access to this beach can be classified as limited. There are two possibilities to get there. One of them is to drive on a ballast road to the southern end of it (known as Puerto Viejo). From there, you should proceed walking. Another way to get there is to drive along a paved road to Brasilito Beach. From there, some risky drivers drive through the beach to get to Playa Conchal.
Location on map:

Sponsors:

Beaches in Costa Rica - member of the network: Directorios en Costa Rica
Home - Provinces - About us - Resources