versión en Español
Cocles Beach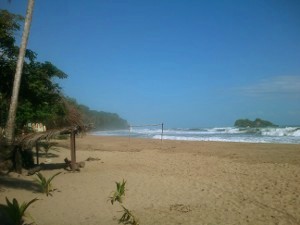 Description:

Cocles Beach is an extensive beach of golden sand located in the southern Caribbean. The waves on this beach are quite strong so it is a common destination for surfing. Playa Cocles offers beautiful landscapes, plenty of vegetation and enough shade, making it a good place to spend a day on the beach. Two rivers, among them the Cocles River, flow near the center of the beach, creating an estuary with its respective outlet to the sea. This water outlet sometimes makes it difficult to walk the entire beach. Additionally, it is worth mentioning that this beach in peak season (end of the year and Easter) is quite visited and can even be noisy, given that the street passes very close and some people like to park the car and put the radio at high volume.
Activities:



As mentioned above, Cocles Beach is a well-known surfing destination. Here it will be easy to find a place to rent a board or hire an instructor to learn this activity, especially at the north end of the beach. Walking and sunbathing are of course other popular activities on this beach. With regard to swimming, given the swell and strong tides it is not advisable to do so, although at some times of the year the sea calms down enough to do it without any problems.
Province: cocles.jpg
Access: cocles.jpg - Access to Cocles beach is very simple, since the main road passes right by the shore of this beach. Some people take advantage of the public area of the beach even to park the car right there. Of course, many tourists also come walking or cycling from nearby hotels or from the town of Puerto Viejo.
Location on map:

Sponsors:

Beaches in Costa Rica - member of the network: Directorios en Costa Rica
Home - Provinces - About us - Resources