versión en Español
Chiquita Beach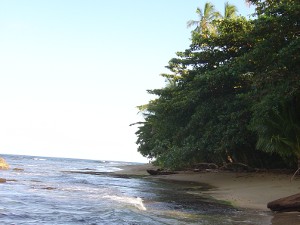 Description:

Playa Chiquita is actually a section of coast somewhat irregular, but of great beauty. This beach has lush vegetation that reaches almost to the shore of the sea and a clear golden sand. In addition, on this beach there are many reefs, which makes the sea take a lot of different shades. The reefs also offer the possibility of bathing in small pools formed by them.
Activities:




Playa Chiquita is an ideal place to enjoy nature. Walking along the beach or just sitting in a shade by the sea are undoubtedly one of the most popular activities here. Of course, because of the great presence of reefs, there are many good points to practice snorkeling on this beach. Also, enjoying a time in the waters of the Caribbean Sea is an excellent option. In the case of the last two activities, caution should be taken with possible currents, since the sea in this area is not as calm some times of the year.
Province: Limón
Access: Limón - To get to Playa Chiquita you must walk. There is the possibility of walking along the coast from nearby beaches, but there are also a couple of trails that cross from the main road to the beach. Thus, some visitors leave their vehicles parked on the road and access walking to the beach on these trails.
Location on map:

Sponsors:

Beaches in Costa Rica - member of the network: Directorios en Costa Rica
Home - Provinces - About us - Resources