versión en Español
Playa Blanca (Cahuita) Beach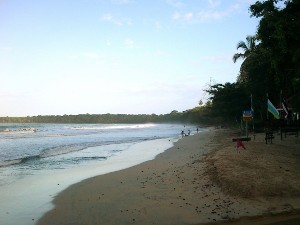 Description:

Playa Blanca is one of the beaches of Cahuita National Park and probably the most visited because it is adjacent to the town of Cahuita. It is a fairly extensive beach that has a light golden sand and abundant vegetation near the sea, as is usual in many of the beaches of the southern Caribbean. Being part of a national park, this beach has some very useful facilities such as picnic tables, showers and changing tables. In addition, there is an excellent path parallel to the beach. The waves and tides vary depending on the time of year, but in general it is stronger on the north side of the beach and calms down when approaching the southern end.
Activities:





Playa Blanca in Cahuita is an excellent place to enjoy nature and spend a day at the beach. The abundant shade makes it easy to take shelter from the heat of the sun. There are good places to bathe and practice snorkeling (between April and October is when the sea is calmer and allows it, at other times there may be currents and the water may not be very clear). Even so, the main activity is to take a walk along the path designated for that purpose. It is possible to see a lot of wildlife, including white-faced monkeys, sloths and more. Although it is not a classic destination for surfing, it is possible to practice it on occasions at the northern end of the beach.
Province: Limón
Access: Limón - Since Playa Blanca is next to the town of Cahuita, access is very simple. The street reaches the north end of the beach, where the entrance to the park is located. From that point forward it is necessary to walk. Unlike most national parks in the country, this entrance to the Cahuita National Park does not charge a fixed amount to enter, but a voluntary collaboration is requested. This contribution is used for park maintenance and also a fraction is for the community.
Location on map:

Sponsors:

Beaches in Costa Rica - member of the network: Directorios en Costa Rica
Home - Provinces - About us - Resources