versión en Español
Bahía Ballena Beach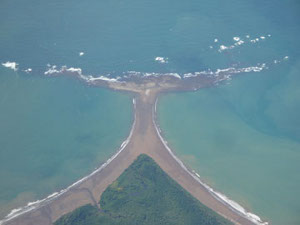 Description:

Bahia Ballena Beach is located in a protected area called Marino Ballena National Park. This park mainly protects the marine resources of the area, but also covers part of the coast. The main feature that distinguishes this beach is that at low tide a tip is formed that closely resembles the tail of a whale. It is common to see aerial photos of this formation in much of the literature that describes the South Pacific region of Costa Rica. This particular formation can easily be seen also from some nearby high points. The beach has dark gray sand and there is a lot of vegetation on its banks due to its nature as a protected area. It is also worth mentioning that the beach and the nearby town are also known as Uvita.
Activities:





A common activity on this beach is to visit the formation with the shape of the tail mentioned in the previous description. It is important to say that it is possible to walk to the tip of this tail, however, this task must be performed at low tide. So, before visiting this beach it is advisable to check the state of the tides. Apart from that, the beach is suitable for swimming and bathing in its waters, as well as for snorkeling. Finally, at some times of the year, this is an excellent starting point for a boat trip to go see whales that come to the coasts of Costa Rica.
Province: Puntarenas
Access: Puntarenas - Access to the beach is simple, but must be done on foot. The vehicles can only reach the town of Uvita and there is an official entrance to the Marino Ballena National Park. You must pay a fee and walk along a path not too long to visit the beach.
Location on map:

Sponsors:

Beaches in Costa Rica - member of the network: Directorios en Costa Rica
Home - Provinces - About us - Resources